Partner with BeaconZone
BeaconZone software improves customers' processes using tracking, sensing and triggering. Our software uniquely...

Provides a non-subscription, non-SaaS solution
Uses the very latest accurate Bluetooth direction finding angle of arrival (AoA) technology
Implements an API that can be used for arbitrary reporting, integration and control
---
Take steps to keep your company competitive by offering the latest Bluetooth asset tracking technology.
BeaconRTLS™
and
PrecisionRTLS™
software has been specially designed to be easy to setup and extend by third parties. We provide a reseller handbook, free demo license, documentation and support. It's a low risk way to innovate while making the most of your existing resources.
---
We partner with established* solution providers in one or more specific industries such as health, manufacturing, transport, hospitality, logistics and education. Alternatively you might be in a technology vertical such as networking provision or older location technologies (UWB, RFID, barcode). We provide an easy way to add the latest Bluetooth asset tracking, IoT sensing and location based triggering to your portfolio of products and services.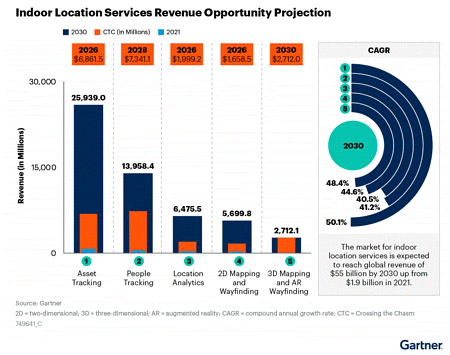 RTLS asset tracking is a large opportunity. According to Gartner, the indoor location
services market will reach $55 billion revenue by 2030 with 50% CAGR.
How partnering works
We jointly sign a reseller agreement.
We supply a long term demo license, free of charge, for you to learn about and demonstrate the software.
We provide licenses at a generous discount* from our current end-user list prices and you are able to value-sell at any price.
We provide licenses, documentation and expert reseller support.
You provision new software instances, install demos and provide support to your end customers.
Training includes a Bluetooth primer to improve your proficiency. We also provide sample prequalification questions to help you filter leads. If you wish, we hand-hold and shadow your initial sales for quicker learning, assistance and assurance. Alternatively, you can refer customers to BeaconZone on a commission basis. It's a two-way partnership. We also occasionally refer customers, commission-free, to established resellers where the end-client and reseller is a better industry fit.
Contact us to explore a partnership as a BeaconZone reseller.
---
* Please note that hardware is relatively low margin so isn't included in partner discounts. You and your end customers can obtain hardware from us, for convenience, or source yourselves.

* The partner programme is for established businesses so isn't for startups. Please also see the countries with which we do business.