We were all waiting for Android Chrome 49 to go from beta to release so more people would gain access to the Physical Web. Well, it's happened and it appears the new feature didn't make the release! If you go to Chrome settings there's no Physical Web setting like there was in the beta version.
Asking some Googlers, I found that you can enable it by going to chrome://flags in the browser. Search for 'Enable the Physical Web' and enable it: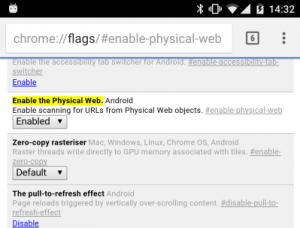 The browser will restart and you will now also have a Physical Web entry in Chrome settings.
While it works, it won't help take up that it's so hidden.
Latest: From Scott Jenson, Google Project Lead for the Physical Web, the Chrome team is just being careful. It'll roll out to 100% of users in 2 weeks. This mirrors what they did in Beta.
Related Posts