---
Important: This web page is provided for historical purposes.
On 25 October 2018, Google announced they are discontinuing Nearby Notifications on Android. This mechanism should no longer be used.
Read about using Beacons for Marketing
---
UPDATE: This article is now out of date. Google has now restricted the use of the Android Beacon Tools app to only beacons supporting the Eddystone GATT Service.
Read About Using Beacons For Marketing
---
---
Google Nearby beacon support seems to have been finally rolled out to most Android phones. Notifications are being shown as people encounter Nearby enabled beacons. So how do you Nearby-enable beacons? Unfortunately, Google's tools and documentation aren't that clear and the process is convoluted. Here's a walkthough with some pragmatic tips on how to set up Nearby beacons.
What are Nearby Beacons?
A way of associating either a URL or an app with a beacon so that people receive a notification when they come across a beacon. The notification comes from the Android OS (Play Services to be more precise). When people come across their very first Nearby beacon they are asked if they want to see future notifications. This can be turned off/on in Settings…Google …Nearby discoveries.
Nearby beacons don't need an app and don't need Chrome (the way of seeing Eddystone-URL configured beacons). Our tests have shown Nearby beacons to be more reliable than relying on Chrome for Eddystone URL notifications.
Nearby beacons don't need a beacon platform or API. You implicitly use Google's Cloud platform free of charge.
Nearby beacons don't need special types of beacon hardware. Any beacon configured as Eddystone-UID, Eddystone-EID or iBeacon can be used.
Beacons configured as Eddystone-URL don't need to be set up as described in this article. They appear in the Android OS Nearby notification list and in iOS Chrome without extra configuration at Google. See How Do I Use The Google Beacon Tools App to Set Up Eddystone URL?
Web sites pointed to by Nearby beacons must be secure (use https://). Unlike Eddystone-URL detection by Chrome, it's not possible to use URL shorteners that use http:// to point to sites that do have https://
Set Up
Tip: There's lots of setup that will become associated with your personal Google account. You might want to create a new Google account to keep any business related settings separate from your personal account.
Google uses the Cloud Platform to register your beacons. You need to have set up a cloud platform project with which to associate your beacons. Go to:
https://console.cloud.google.com/start
Click on Create project: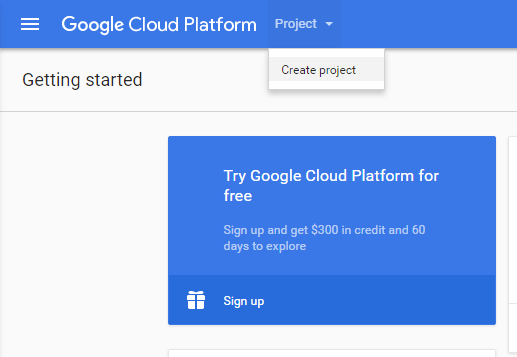 Enter a project name and click Create: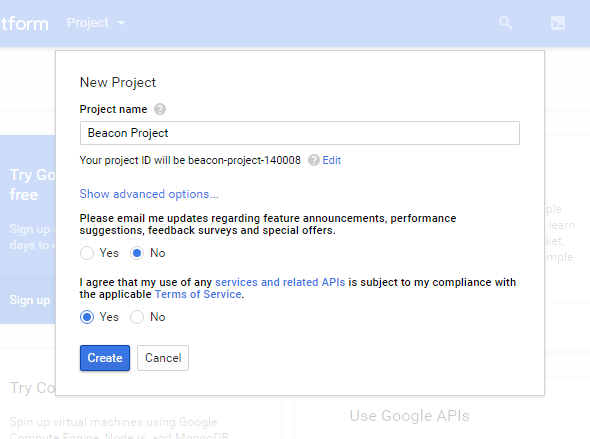 Wait until the project has been created. This might take some time and the activity icon will rotate until completion: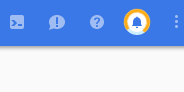 then: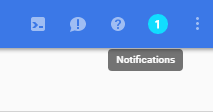 When the project has been created, go to the Beacon Dashboard:
https://developers.google.com/beacons/dashboard/
Click on the the new project you created: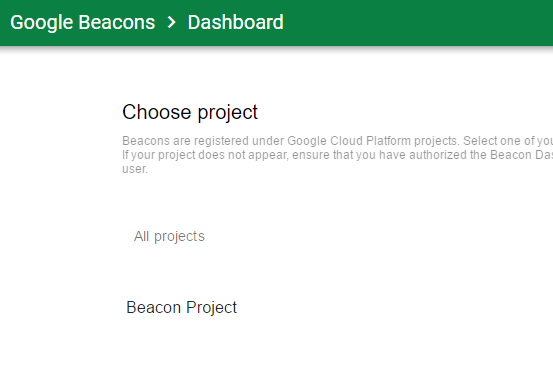 You will be prompted to install the Beacon Tools app: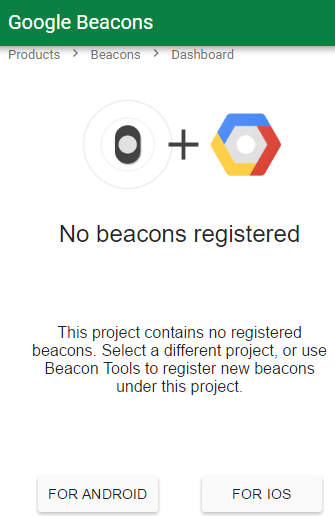 Install the app and log in using the same account that was used to create the Cloud Platform project.
In the Beacon Tools app, the Beacons Near Me screen shows Unregistered and Registered beacons. Take your beacon and configure it using your manufacturer supplied app to be Eddystone-UID, Eddystone-EID or iBeacon. We have separate article on tips on Choosing UUID, Major, Minor and Eddystone-UID For Beacons.
Tip: If the beacon doesn't show up in the Unregistered section of the Beacon Tools app then someone has already registered that beacon. This is likely if you have left the beacon ids as the default values as supplied by the manufacturer. Beacons, as defined by their ids, can only be registered by one person (Google account).
Tap on the area below the shaded portion to register that beacon: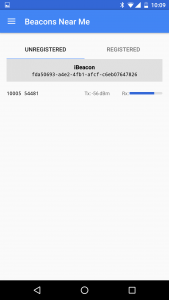 Tap on REGISTER BEACON: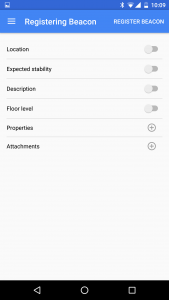 Go back to the dashboard, refresh and the beacon will be listed. Click on the beacon: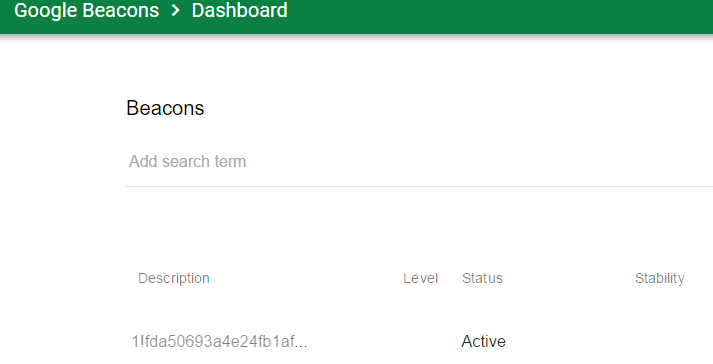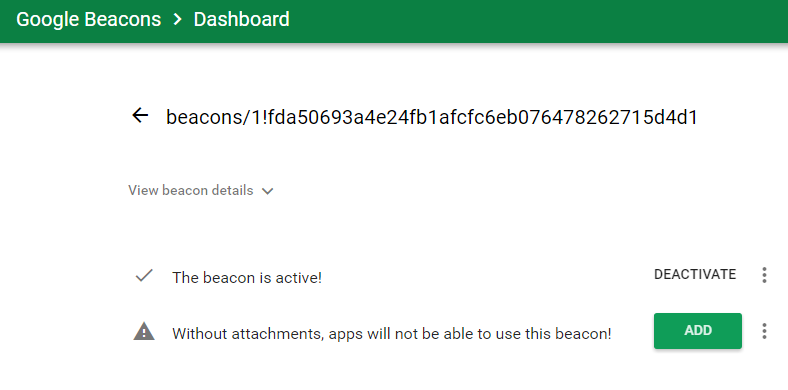 The Nearby settings aren't obvious. Click on View Beacon Details: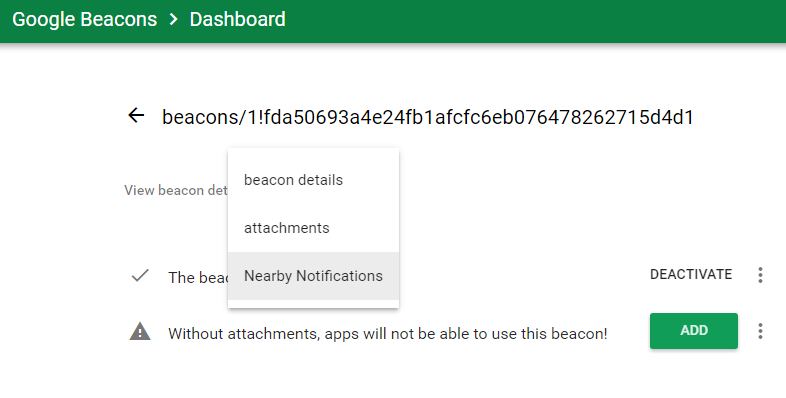 Fill in a title, description and locale: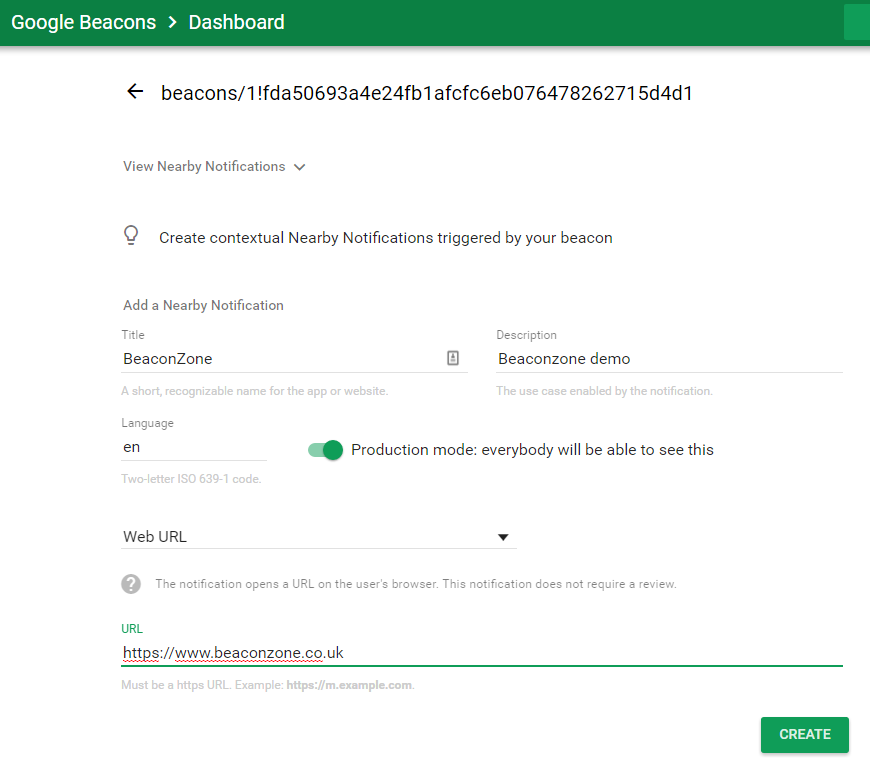 (Use en for English devices)
Tip: You need to create separate entries for each locale you expect to encounter your beacon otherwise they won't be seen.
Your Nearby beacon is now active.
Tip: Sometimes the beacon doesn't instantly show up as a notification on the device you have just used for Beacon Tools. However, we have found that other phones do see the notification within a short time.
Tip: You can test if the Nearby beacon has been set up correctly by going to Settings … Google … Nearby discoveries and your beacon will be shown (you might need to use the refresh button at the top):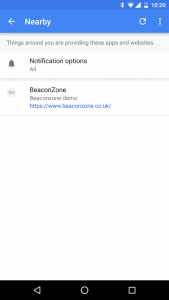 Troubleshooting
Limitations
This is an Android only solution. However, this does cover over 80% of smartphones.
It also only works if users have Bluetooth and Location turned on, that's typically up to 50% of users. More users are leaving Bluetooth on due to the increased use of Bluetooth audio products.
Nearby Beacons is in Google Play Services rather than the Android OS which has allowed it to be rolled out to existing users independent of updates to their Android OS. This means it won't work on 'forked' versions of the Android OS that don't include Google Play Services. Probably the largest and most significant group of forked users is those using Amazon Fire devices.
Currently, a notification typically only appears after the screen has been turned on. It usually causes a minimum priority notification that won't create a status bar icon. For users who have accepted the Nearby Notifications welcome experience, some notifications will start as low priority and create a status bar icon. However, after a few minutes as low priority they degrade to min priority and stay there.
Related Posts