We have recently introduced IoTEdgeGateway. In the same way as our Bluetooth WiFi gateways, it detects beacons and can send location and sensor data up to the cloud/servers. However, IoTEdgeGateway is an 'Edge', (sometimes called 'Fog') gateway where we can perform extra processing custom to your situation.
Custom processing allows data to be filtered in more complex ways than with simple pattern matching. For example, you might want to reduce the amount of redundant sensor/positioning data being sent to a server to reduce transmission and data costs. Edge gateways also allow the sending out of alerts direct from the gateway rather than from the server so as to reduce alert latency. Unlike our WiFi gateways, we also have hardware variants that have an Ethernet rather than WiFi connection.
IoTEdgeGateway also does more with Bluetooth. It can connect, via Bluetooth GATT, rather than only receive Bluetooth advertisements. Connecting via GATT allows for remote configuration and extraction of data not available via advertising. Finally, a more capable gateway allows use of a larger array of protocols to communicate between systems.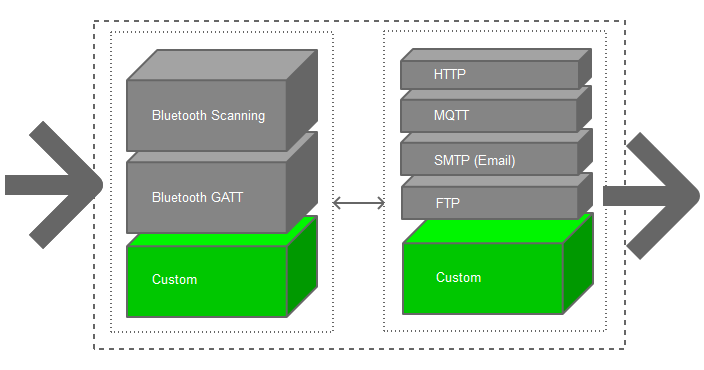 The core part of IoTEdgeGateway senses Bluetooth advertising and can connect via GATT. It outputs via HTTP(S), email (SMTP) and FTP. We can extend and customise the input and output to your exact requirements.
Contact us about the IoTEdgeGateway.
Related Posts