The iGS01 gateway listens for beacons, gets their advertising data and forwards it on to your server or an IoT server via TCP, HTTP(S) or MQTT. It can be used to feed back-end systems that report on the presence or absence of iBeacon or Eddystone beacons or act on beacon sensor (e.g. accelerometer, temperature, light, humidity) data.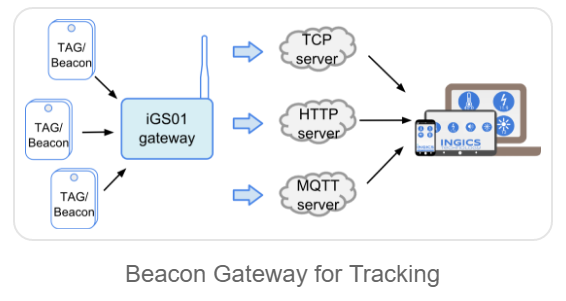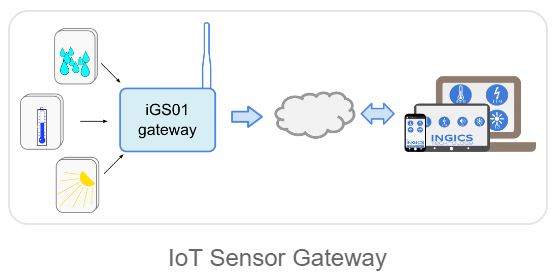 The gateway connects to your local 2.4GHz frequency band WiFi access point and is managed via a web browser interface. It can be connected via WPS (press button on both the gateway and the WiFi access point). It can also be managed via Telnet commands from other hardware (or a human).
It's powered via the included standard micro-USB cable. This needs to be plugged into a smartphone charger (not supplied) or any host device that can provide at least 500mA.
The gateway sends data of the form:
$<report type>,<beacon MAC address>,<gateway MAC address>,<rssi of the beacon>,<advertising data>,<unix epoch timestamp>\r\n
(The unix epoch timestamp requires an NTP server to be configured)
For HTTP (POST), the data can be set to be sent immediately or every 'request interval' in seconds. The host/ip, port, URL path (the part after the port/host), an optional http username/password and an optional extra header can be specified. See the above image for further details.
It's also possible to throttle the data so that only the latest record is retained and sent every interval.
For MQTT/MQTTS, the host, port, username, password and a root CA cert can be provided.
The sent data is Bluetooth-advertising format agnostic. The gateway doesn't know or care if it's iBeacon, Eddystone or something else. It just passes on the Bluetooth LE advertising data. However, there is a facility to filter beacons by RSSI and advertising data pattern.
Detects up to 40 beacons per second. Range depends on the the range of the beacon(s) used.

The unit has a wide operating temperature of -20C to 60C and has an operating current of 80mA. It can connect to WiFi up to 100m away in open space and connects via WPA/WPA2 (Personal, not Enterprise).
Unlike proprietary gateways, this one isn't tied to a particular type of beacon platform. We have live demos on our blog of this gateway uploading to ThingSpeak and AT&T M2X. It also works with our BeaconRTLS platform.
Note: The iGS01 only sends on advertising data and hence sensor data in advertising data. It doesn't connect to the beacon via GATT to obtain sensor data. To do more sophisticated processing, consider our IoTEdgeGateway.
Includes: iGS01 Unit, 1, USB cable, 2bBi dipole antenna
Supplied with details how to access the technical information.
Beacons
Size
54mmx41mmx18mm (excluding dipole antenna)
iGS01 Bluetooth WiFi Gateway
Brand: INGICS
Product Code: iGS01 BLE WiFi Gateway
Availability: 133