The iGS03E gateway listens for beacons, gets their advertising data and forwards it on to your server or an IoT server via TCP, HTTP(S) or MQTT including AWS IoT, Google Cloud IoT and Azure IoT Hub. It can be used to feed back-end systems that report on the presence or absence of iBeacon or Eddystone beacons or act on beacon sensor (e.g. accelerometer, temperature, light, humidity) data.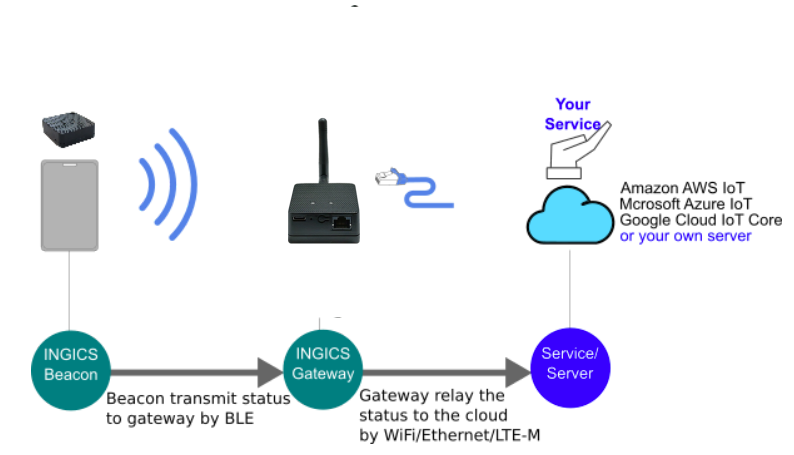 The gateway connects to your network using an Ethernet connection and is managed via a web browser interface (See iGS01S for the same functionality connected via WiFi). The iGS03E can also be managed via Telnet commands from other hardware (or a human).
The gateway is powered via the included standard micro-USB cable or Power over Ethernet (PoE). USB power needs to be plugged into a smartphone charger (not supplied) or any host device that can provide at least 1A.
[We also supply the less expensive iGS02E that doesn't have PoE]
The gateway sends data of the form:
$<report type>,<beacon MAC address>,<gateway MAC address>,<rssi of the beacon>,<advertising data>,<unix epoch timestamp>\r\n
(The unix epoch timestamp requires an NTP server to be configured)
For HTTP (POST), the data can be set to be sent immediately or every 'request interval' in seconds. The host/IP, port, URL path (the part after the port/host), an optional http username/password and an optional extra header can be specified. See the above image for further details.
It's also possible to throttle the data so that only the latest record is retained and sent every interval.
For MQTT/MQTTS, the host, port, username, password and a root CA cert can be provided.
The sent data is Bluetooth-advertising format agnostic. The gateway doesn't know or care if it's iBeacon, Eddystone or something else. It just passes on the Bluetooth LE advertising data. However, there is a facility to filter beacons by RSSI and advertising data pattern.
Detects up to 200 Bluetooth packets per second when using MQTT. Range depends on the range of the beacon(s) used.
Supports Bluetooth Low Energy in Long Range mode (LE Coded PHY).
The unit has a wide operating temperature of -20C to 60C and has an operating current of 350mA.
Works with our BeaconServer™ and BeaconRTLS™ platforms.
Includes: iGS03E gateway, gateway wall holder, USB cable, 2bBi dipole antenna for Bluetooth.
Supplied with details how to access the technical information.

CE Certified.

Beacons
Size
54mmx54mmx24mm (excluding dipole antenna)
iGS03E Bluetooth Ethernet Gateway
No waiting weeks - delivery from stock
Ex vat outside UK - shown after registering
Fast 1-2 day delivery by UPS courier
Expert English UK based support
Read more about
delivery
Read
past customer feedback
Tags: bluetooth, ethernet, gateway