Delivery Information
---
We only supply to companies and organisations - more information
---
Brexit and EU VAT Changes
---
Orders are sent via
UPS courier
and include full tracking
We can also deliver to
UPS access points
Your order will be sent the same or next day (Monday to Friday)
Delivery is Monday to Friday
---
United Kingdom

UPS Courier from £7.99 (+ VAT) that delivers in 1 to 2 business days.
N Ireland from £10.34 (+ VAT) that delivers in 2 to 3 business days.
Remote regions of the UK will take longer.
International

We send to Austria, Australia, Belgium, Bulgaria, Canada, Croatia, Cyprus, Czech Republic, Denmark, Estonia, Finland, France, Germany, Hungary, Iceland, India, Ireland, Israel, Italy, Latvia, Lithuania, Luxembourg, Malta, Netherlands, New Zealand, Norway, Poland, Portugal, Qatar, Romania, Saudi Arabia, Singapore, Slovenia, Slovakia, Spain, Sweden, Switzerland, Turkey, United Arab Emirates and United States.
We can only send to the EEC if you have a European VAT number.
Orders are sent UPS Express Saver (by air) from

£22.22 (about $30, €26)

. Create a sample order to see the exact shipping charge for your country based on the order weight. See the bottom of this web page for UPS delivery times.

The shopping cart currency is UK Pounds Sterling. This will be converted to your local currency by your credit card provider.
You are responsible for any taxes, duty and fees
applicable when the goods enter your country.
---
VAT is charged at 20% on all United Kingdom orders.
We charge 0% VAT on all
international orders that is shown after you have registered during ordering
.
If ordering from the EU
include your VAT number in your contact details to avoid delay in shipping.
---
All items showing

stock

in the online store, are

in stock.
Each item in the store shows how many we have in stock. For example: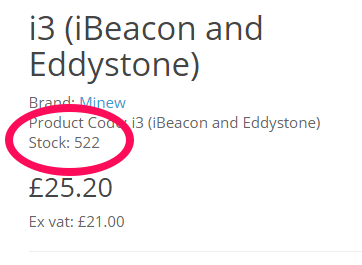 The store will only allow you to order items we have in stock.
---
We can only send up to 5Kg in one parcel. Please split larger orders.
---
UPS International Delivery Times
Countries
UPS Express Saver
(by air)

Northern Ireland, Germany, Belgium, Netherlands, France, Ireland, Luxemburg

1-2 business days
to business areas
Spain, Portugal, Denmark, Poland, Italy, Switzerland, Hungary, Slovenia, Czech Republic, Austria

1-2 business days
to business areas

Sweden, Slovak Republic

1-2 business days
to business areas

Finland, Estonia, Latvia, Lithuania, Romania, Malta, Croatia

1-2 business days
to business areas

Norway, Bulgaria, Cyprus, Iceland, Turkey
1-2 business days
to business areas

USA, Canada , Singapore, Qatar, Saudi Arabia, United Arab Emirates

2-3 business days
to business areas

India, Australia, New Zealand

5-6 business days
to business areas

You will receive a tracking number allowing you to trace your shipment
International orders can be subject to delays caused by holiday periods,
carrier problems and customs processes that are outside our control