Nordic, the manufacturer of the System on a Chip (SoC) found in most beacons has announced that an ultra thin version will be available from American Semiconductor.
The AS_NRF51 Flex-BLE (pdf) is an ultra-thin version of Nordic's nRF51822 SoC wafer-level CSP (WL-CSP), employing American Semiconductor's 'FleX™ Semiconductor-on-Polymer™' (FleX SoP) process to reduce package size to approximately 35µm—roughly half the thickness of a human hair.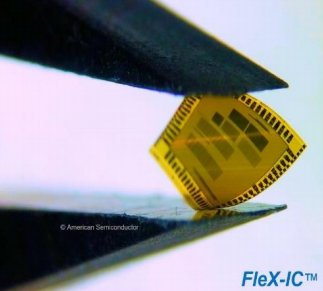 The largest component of beacons and Bluetooth sensors is usually the battery rather than the SoC. However, the Flex-BLE version will be especially suited to energy harvested and solar solutions where it will be possible to create very thin beacons that can be invisibly manufactured into products or their packaging.