Our article on Beacon Proximity and Sensing for the Internet of Things (IoT) explains how beacons can become part of the Internet of Things. Most implementations need to use a server or cloud IoT platform. However, in working with clients we have seen many problems with most of today's commercial IoT platforms:
Cost – Many aren't financially scalable in that costs escalate once the number of sensors and/or sensor reporting frequency is increased. Future costs are also unknown and unpredictable which is unacceptable for many organisations.
Continued Existence – It's still early days for IoT and it's not known if today's platforms will be around for as long as the project. Some early beacon-specific platforms have already closed. Others have been taken over by large companies that have other agendas.
Security – Many projects, particularly those with sensitive data, can't be run on or through shared public servers, services or platforms.
Control – For some organisations, aspects such availability and reliability need to be controlled in-house.
Functionality – IoT is a nebulous concept covering many specialist areas and industries. It's difficult for a given IoT platform to cater for all needs. It's usually necessary to compromise on your required functionality. Many IoT platforms have limited alerts, analytics and dashboards because they have cater for the lowest common denominator and not provide industry specific features.
A solution to these kinds of problem is the use of open source IoT platforms. The current and future costs are known, there's full control and you are free to extend in any way you wish.
Platforms such as ThingsBoard offer data collection, processing, visualisation, and device management. In the case of ThingsBoard it offers a secure, scalable solution that uses a Cassandra database that's well suited for storage and querying of time-series data while providing high availability and fault-tolerance.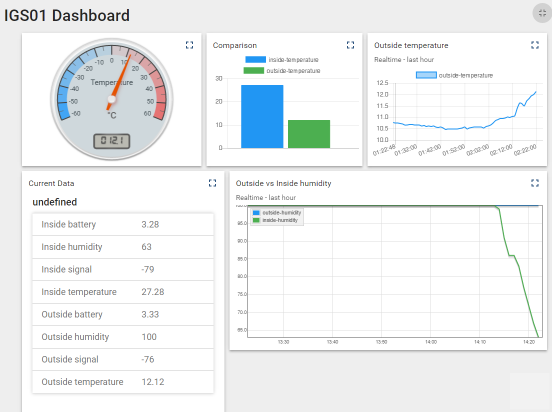 Thingboard Dashboard Showing Sensor Beacons
If you need more help, consider our development services.