There's a new Physical Web app for Android by the Physical Web Association. The app detects beacons advertising Eddystone URL.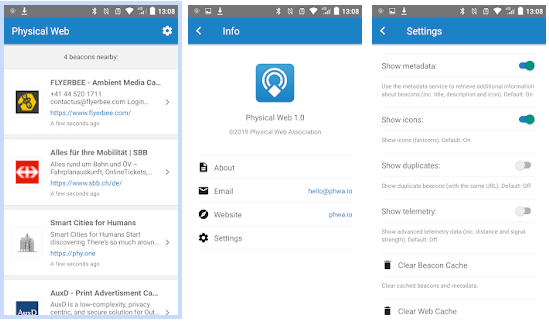 The app joins the iOS version. The new apps and the Physical Web Association take up the space left by Google abandoning the Physical Web. The association's apps are unbranded so can be used by anyone to provide for information triggered by beacons.
The Physical Web Association aims to provide the universal apps, metadata services and support. Mr Beacon has a new interview with Agustin Musi and James Grant, founders of the Physical Web Association. It explains how the Association hopes to work with manufacturers to simplify the beacon setup experience. It also mentions opportunities to use Eddystone URLs to lead to progressive web apps to provide device control using web Bluetooth APIs. This was one of the original premises of Google's ambitions for the physical web.
Unlike Google's implementation, the Physical Web Association hopes to create a publisher-driven categorisation/ranking system and end user app settings to limit and filter when notifications are shown when beacons are detected in background.
View Eddystone beacons