Since we have started selling the AKMW-iB003N-SHT  and AKMW-iB004N PLUS SHT we have been getting a few questions regarding accessing the temperature and humidity data.
You should first read the manufacturer's SHT20 User Guide (username and password supplied with your beacon).
If you are connecting via GATT to read the sensor data then you will need to set the beacon to be always connectable. The way to do this is (for some strange reason) only shown in the iB001M user guide: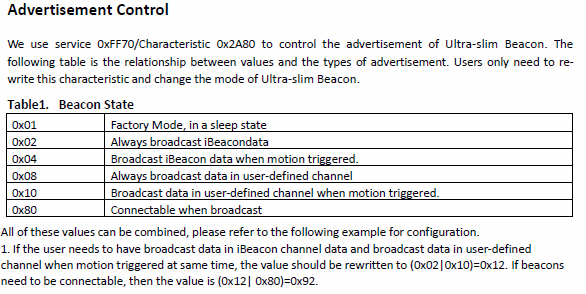 So if you wish to transmit iBeacon and remain connectable, set the value to 0x82. Note that if you subsequently set the beacon 'on' or 'off' in the 'simple' configuration screen, accessed via the spanner icon (Android) or Configure option (on iOS), then this will overwrite your set value.
However, you might instead consider reading the sensor data from the advertising data which a) is much easier to program and b) uses much less beacon battery power and c) allows multiple apps to see the data at the same time.
UPDATE: There's now an iOS example app in the BeaconZone AnkhMaway technical area.
Related Posts