Google has a new Android version of the Physical Web app. The new app offers blocking (swipe left), starring in list view and sharing. Starring causes items to be shown at the top of the list and a notification to be shown in the lock screen.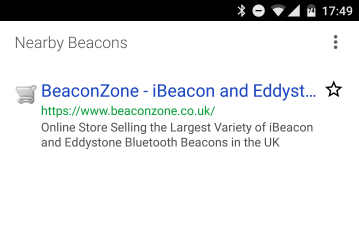 The Physical Web is more than just regular Bluetooth Eddystone Beacons and in a wider sense it about anything sending out a URL. Google have now added Wi-Fi Direct , mDNS, SSDP and FatBeacon.
Fatbeacon is an interesting experimental Bluetooth beacon that has the web site title, description and web page (<10Kb) inside the beacon. This will make beacon discovery very fast and not need an Internet connection as the app doesn't need to go to the Google proxy nor a target web site.
The app's sharing feature isn't, as you might expect, a facility to share a discovered URL. Instead it's an Intent based programming feature that other Android apps can use to share a URL to the Physical Web app that will shorten the URL and broadcast it via the phone's Bluetooth LE. This reverses the discovery so that the device (or user) is part of the Physical web. It also introduces the possibly of dynamic (changing) URLs controlled by another app.
The release notes for the Android app can be found on GitHub.