Fitness bands send out the same standard Bluetooth 4 advertising as beacons. They are essentially sensor beacons in a watch form factor with extra functionality and apps pertaining to record fitness.
The main things to look out for with fitness bands are the physical range and openness of the raw data. Many fitness bands only need to transmit a short distance of a few metres to the users' phone/app so as to reduce the power of the Bluetooth 4 signal. Most fitness band manufacturers are also over-secretive about data access as they think their products might be copied.
Late last year we received a new Smartband fitness band into stock that has a transmit range far enough (30m) for tracking purposes.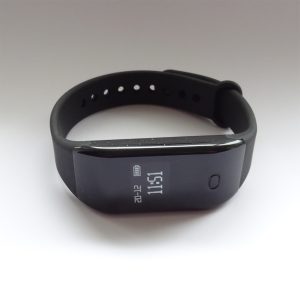 We have negotiated with the manufacturer for access to the programming API through which we can access the pedometer (steps, calories), heart rate monitor, sleep recorder (deep sleep, light sleep, awake), clock, alarm clock, phone notification reminder and also real-time xyz acceleration. The API is under NDA so we can't re-publish this information as we do our other beacons. Nevertheless, it allows us to take on more life science client projects.