We have the DIYMall range of Beacon relay modules in stock. These modules work the opposite way around to iBeacon and Eddystone beacons. Instead of a beacon typically causing something to happen on a smartphone, the smartphone (app) connects to the beacon that causes a relay to switch on or off. This can be used to turn anything electrical, on and off, for IoT type applications. There are modules with 1, 4 and 8 relays.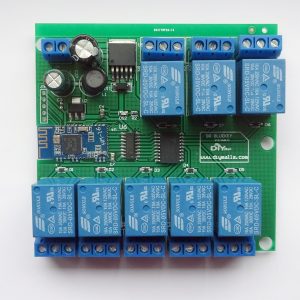 8 Relay Beacon Module – the beacon part is the blue PCB to the left
The controlling device doesn't have to be a smartphone and can be any other device, such as Raspberry Pi, that can connect via Bluetooth GATT. The modules come with demo iOS/Android apps and example iOS and Android source code projects. The relay modules are also password protected for added security.