There are some posts on Twitter and articles talking about how Eddystone appearing in iOS Chrome's Omnibox might transform proximity notification scenarios. So what is this and what does it look like?
This came about due to the Physical Web/Chrome teams experimenting with new ways to show Eddystone notifications:
New PW test UI on Chrome 55 for iOS
Go to chrome://flags, enable Physical Web, Relaunch
PW results now show in OmniBox
Looking for feedback

— Physical Web (@ThePhysicalWeb) January 3, 2017
At the moment, notifications appear at the end of the 'Today' view. They get a bit lost because you have to swipe down get the notifications, swipe left and then scroll to the bottom: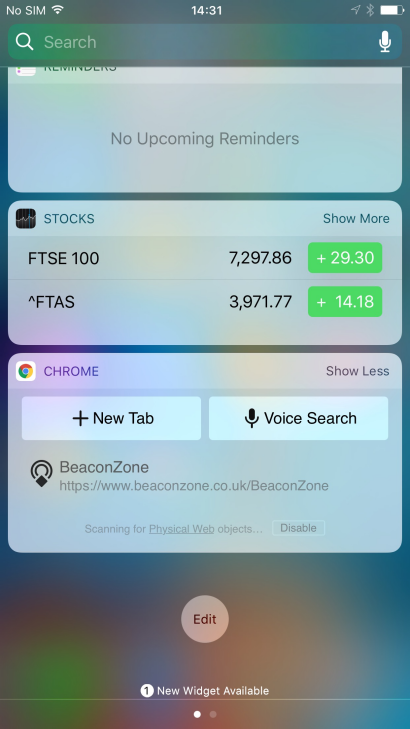 BeaconZone Eddystone notification at the bottom
Noone is going to see this unless they know it's there and are trying very very hard. Even though Eddystone detection is designed to be 'pull' rather than 'push', it's a bit too difficult to find local Physical Web beacons.
With Google's experimental Omnibox implementation, beacons come up when you go to do a Chrome search. At the moment, to try it out you have to enable an experimental flag by visiting chrome://flags: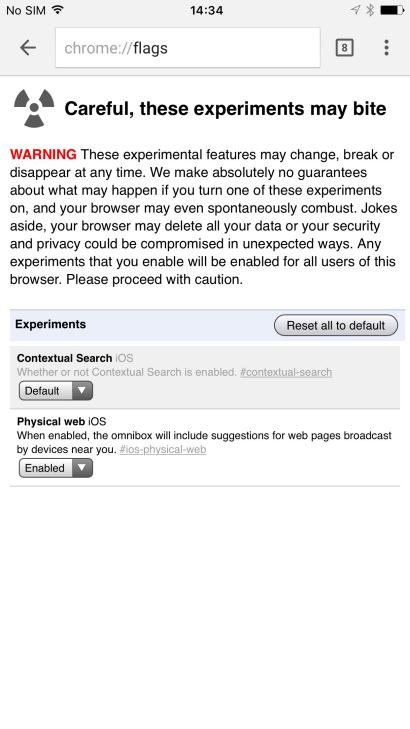 After you do this, local physical web beacons appear when you start a search: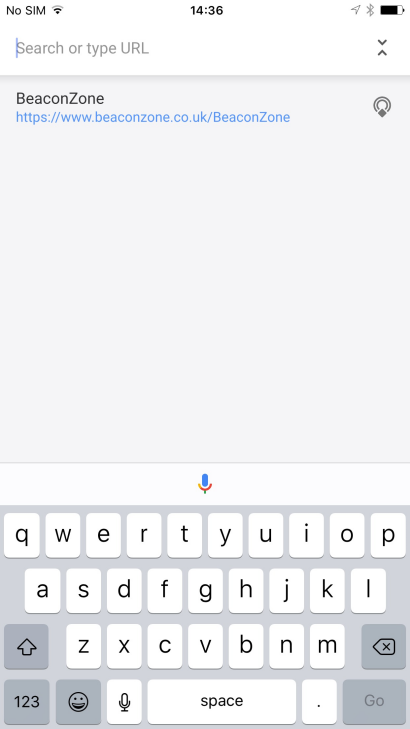 It's far more likely people will see this rather than the Chrome widget at the bottom of the notifications Today panel.
It's unknown whether this will find it's way into future versions of Chrome without having to set the flag or whether it might appear on Android. Android has more visible Eddystone detection as it's built in Android itself (Play Services to be more specific) and appears near the top of the notifications panel.
UPDATE: As of October 2017, Google removed Eddystone detection from Chrome on iOS and Android. Only Android can provide notifications.