While we wait for commercial Bluetooth 5.1 direction finding solutions to become available, people are trying to refine traditional locating methods to gain more accuracy. Baichuan Huang, Jingbin Liu, Wei Sun and Fan Yang have a research paper on A Robust Indoor Positioning Method based on Bluetooth Low Energy with Separate Channel Information.
They have observed that the stability of the received Bluetooth signal strength RSSI depends on which Channel 37, 38 or 39 the signal is being received on. This is because the channels slightly overlap the WiFi channels and there can be other Bluetooth devices also using the same channels.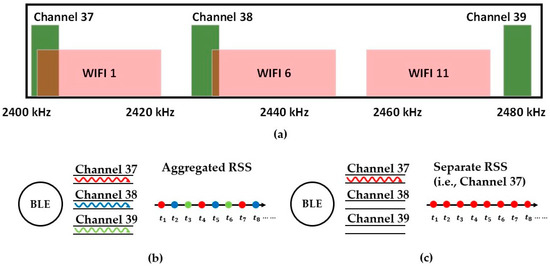 The method analyses the channels over time and chooses those it thinks has least interference and most stable RSSI. This reduces the positioning error by 0.2m, to 2.2m, at a distance of 3.6m.
Read about Determining Location Using Bluetooth Beacons
Related Posts