We previously wrote about how beacons are part of Industry 4.0 and how implementations need to achieve a return on investment. Industry 4.0 is also being called 'The 4th Industrial Revolution' (4IR).
Oracle and the EEF have an excellent free, recent, paper (registration NOT required) on The 4th Industrial Revolution: A Primer for Manufacturers. It concludes 4IR isn't hype and should be taken seriously. Here's how manufacturers themselves see 4IR: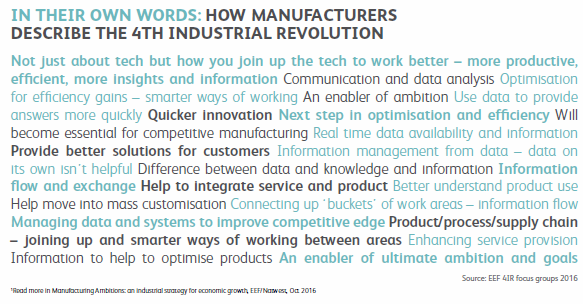 Manufacturing is undergoing a transformation. The report says it's all about data connectivity. However, the report falls short on explaining how data can be sensed and captured. Sensor beacons, gateways and beacon platforms such as our BeaconRTLS are one such solution that helps fill that gap.
Read more about beacons and the IoT
Related Posts