The traditional IoT strategy of sending all data up to the cloud for analysis doesn't work well for some sensing scenarios. The combination of lots of sensors and/or frequent updates leads to lots of data being sent to the server, sometimes needlessly. The server and onward systems usually only need to now about abnormal situations. The data burden manifests itself as lots of traffic, lots of stored data, lots of complex processing and significant, unnecessary costs.
The processing of data and creating of ongoing alerts by a server can also imply longer delays that can be too long or unreliable for some time-critical scenarios. The opposite, doing all or the majority of processing near the sensing is called 'Edge' computing. Some people think that edge computing might one day become more normal as it's realised that the cloud paradigm doesn't scale technically or financially. We have been working with edge devices for a while now and can now formally announce a new edge device with some unique features.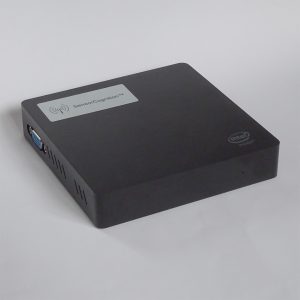 Another problem with IoT is every scenario is different, with different inputs and outputs. Most organisations start by looking for a packaged, ready-made solution to their IoT problem that usually doesn't exist. They tend to end up creating a custom coded solution. Instead, with SensorCognition™ we use pre-created modules that we 'wire' together, using data, to create your solution. We configure rather than code. This speeds up solution creation, providing greater adaptability to requirements changes and ultimately allows us to spend more time on your solution and less time solving programming problems.
However, the main reason for creating SensorCognition™ has been to provide for easier machine learning of sensor data. Machine learning is a two stage process. First data is collected, cleaned and fed into the 'learning' stage to create models. Crudely speaking, these models represent patterns that have been detected in the data to DETECT, CLASSIFY, PREDICT. During the production or 'inference' stage, new data is fed through the models to gain real-time insights. It's important to clean the new data in exactly the same way as was done with the learning stage otherwise the models don't work. The traditional method of data scientists manually cleaning data prior to creating models isn't easily transferable to using those same models in production. SensorCognition™ provides a way of collecting sensor data for learning and inference with a common way of cleaning it, all without using a cloud server.
Sensor data and machine learning isn't much use unless your solution can communicate with the outside world. SensorCognition™ modules allow us to combine inputs such as MQTT, HTTP, WebSocket, TCP, UDP, Twitter, email, files and RSS. SensorCognition™ can also have a web user interface, accessible on the same local network, with buttons, charts, colour pickers, date pickers, dropdowns, forms, gauges, notifications, sliders, switches, labels (text), play audio or text to speech and use arbitrary HTML/Javascript to view data from other places. SensorCognition™ processes the above inputs and provides output to files, MQTT, HTTP(S), Websocket, TCP, UDP, Email, Twitter, FTP, Slack, Kafka. It can also run external processes and Javascript if needed.
With SensorCognition™ we have created a general purpose device that can process sensor data using machine learning to provide for business-changing Internet of Things (IoT) and 'Industry 4.0' machine learning applications. This technology is available as a component of BeaconZone Solutions.
Related Posts