Governments are increasingly mandating workplace indoor occupancy limits due to the Coronavirus pandemic. This is especially so in education where the risk of reduced social distancing is being mitigated with occupancy limits.
Occupancy is the number of people that are currently inside a building, room or zone. Measuring occupancy manually requires significant effort, additional staff, is error prone and is difficult to achieve, especially when there are multiple entrances and exits.
It's for this reason, we are seeing organisations starting to use automated approaches. Real time locating systems (RTLS) such as our BeaconRTLS™ use Bluetooth beacons on people and gateways in rooms/zones to track who is where. The resultant data provides for accurate current and historical occupancy.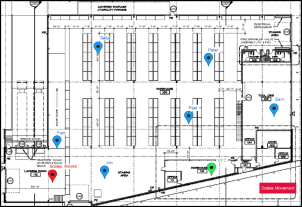 Once you have a system in place it has lots of other uses:
Finding people
Locating staff for safety and evacuation
Finding expensive assets shared amongst staff
Providing alerts if things move when they shouldn't
Detecting when collisions occur between vehicles/racking
Tracing of parts, sub-assemblies and physical orders
Supporting IoT sensing including light, temperature, humidity, water leak, gas
Creating big data for use with AI to provide insights using patterns the data
Related Posts